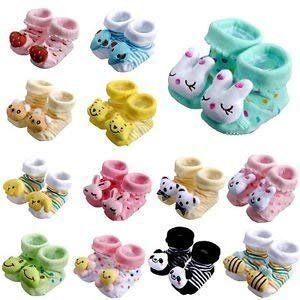 Best online collection of shoes for girls, boys shoes, school shoes, slippers, sneakers for girls and boots for girls and boys.
A worth buy for a kid like yours at great sale price . ShopCash Cute Cartoon Face Fancy Booties Socks (Assorted, 0-3 Months) for Babies (Multicolor, Packs of 2) – footwear for kids at just Rs. 149.00. This product is sold to you by SHOPCASH.
Available on this website at a very discounted price.
Size: 0-3months
Colour: Multicolour and Attractive design(Random color and design will be delivered)
Material: Cotton ; Washable and reusable
It is soft and provides comfort
Usually dispatched within 1-2 business days
Last update was on: October 2, 2023 3:07 am
Size: 0-3months
Colour: Multicolour and Attractive design(Random color and design will be delivered)
Material: Cotton ; Washable and reusable
It is soft and provides comfort

Didn't find the right price? Set price alert below
Lowest price Product: ShopCash Cute Cartoon Face Fancy Booties Socks (Assorted, 0-3 Months) for Babies (Multicolor, Packs of 2) - Rs. 149